The Values Task Force was formed in early 2021 to articulate the values that Impact 100 Redwood Circle will use to direct future decisions and actions.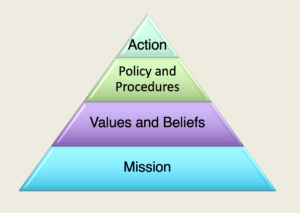 The Task Force is co-chaired by Jan Gilman, past president of Impact 100 Redwood Circle, and Melissa Kelley, also a past president and the group's founder. Other committee members include Impact 100 Redwood Circle members Chris Bitonti, Gail Ginger, Carol Orme, and Carol Lynn Wood. Organizational development consultant Sharon Keating is facilitating the group.
As of late May 2021, the group has reviewed existing Impact 100 Redwood Circle documents to identify values the group has already expressed, and the group has conducted a survey of Impact 100 Redwood Circle members on the topic.
This summer, the Task Force members will interview a random sample of Impact 100 Redwood Circle members for additional feedback related to values. The Task Force also will interview community leaders who were advisers on our Diversity, Equity, and Inclusion discussions, as well as all past Impact Grant awardees.
To conclude the project, the Task Force will
— identify and define core values of the organization
— present a draft recommendation to the Leadership Team and Executive Committee for feedback
— present a final recommendation to the full membership for ratification