"Busting Bias – Inspiring Conversations for Change!" by Thea Hansel

"Reframing" is a powerful tool in counseling because it creates an opening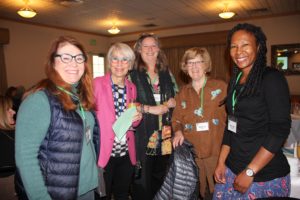 – an opportunity for change, growth, and solutions often buried in negativity. Shifting from "I'll never learn this!" to "This is harder than I thought and will take me longer" is neutral and more hopeful. "Why did this happen?" can also be "Wow, there's some big learning here!"
Reframing is part of the new Impact 100 Inspirational Conversations about Change group starting April 28th. What new perspectives can offer epiphanies for shifting our practice?
We're convinced that inhibiting discussions about class and ethnicity can be reframed as collegial explorations and growth.
The first sessions facilitated by Suzy and Jan were rewarding, and identified two goals:
1) Pursuing personal journeys of self-exploration, exploring our knowledge, beliefs, and biases (conscious and unconscious) with respect to white privilege, racial injustice, inequality, and disparities.
2) Discovering best practices in grantmaking, membership recruitment, and diversity.  What are key actions to dismantle bias and enhance diversity, equity, and inclusion within Impact 100? 
The Busting Bias sub-committee invites the first 20 people for six, weekly, 90-minute sessions on Wednesdays, April 28th-June 2nd. A doodle poll will determine the best common time of day. Resources will be videos, historical prompts, book chapters, and perhaps a guest presenter. We'll Zoom together and in break-out groups.
Please email Robin Warren to register/information: rtwarren63@comcast.net