Continuing Education for Impact 100 Redwood Circle Members
"We empower Sonoma County women to invest in a more sustainable nonprofit community through collective giving and responsible stewardship."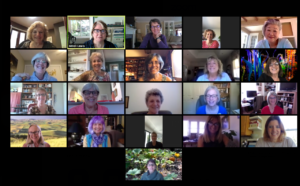 As part of our commitment to responsible stewardship, we support our entire membership in learning more and understanding the impact of our grants and how they address the needs of Sonoma County.
The Education Committee strives to support members in their ability to be effective in their charitable giving. The ED Talk Speaker series was created to inform and educate members about current issues and challenges facing our community. The Education Committee also provides the Nonprofit Resource List as well as hosting the ED TALK speaker series.
Spotlights on Community and Impact Grant recipients provide an opportunity for our members to learn more about the nonprofits we support.  They also provide an opportunity for nonprofits to share the depth of their impact with our membership.
Spotlights on the Intersection of Business and Philanthropy highlight speakers from current and past grantees who are willing to share their unique stories. From integrating their business with a foundation to transitioning from the for-profit to the nonprofit world or learning on the fly to better serve underserved communities.