Sara Zeff Geber's academic life took her from college dropout to PhD;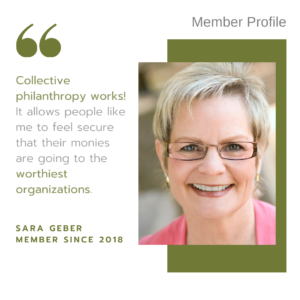 her career path morphed from flight attendant to college instructor to organization and leadership development to a nationally recognized expert on "solo aging." Clearly, she knows a thing or two about reinvention.
Sara had a "great childhood" in Berkeley where the question in her family wasn't "IF I'd go to college, but where."  After a year at the University of Colorado, which was "not radical enough" for a Berkeley girl, and two years at the University of California at Davis, she dropped out to sample life on a commune in Hawaii.  "A year of that was enough," she laughs, although the 21st-century version of communal living (co-housing) is a current interest of hers.
Life took "a radical U-turn" when she became a flight attendant, a job she enjoyed that would literally take her "all over the world" until she decided it was time to get back to the books. She picked up a bachelor's degree in psychology from West Chester University and earned a Master's Degree at Colorado University.  Married and living in Colorado, Sara was able to meld her academic credentials with her experience as a flight attendant.  "There was a junior college near us that had a travel and airline career program.  They hired me and that's where I discovered my love of teaching adults," she says.
After divorce and relocation back to northern California, Sara landed a job in the human resources department at Lockheed where she taught leadership and communication skills. She loved the work and gradually developed contacts that allowed her to work on her own, contracting for training work with large companies at home, in Asia, and in Europe. "There was a lot of travel but I loved it," she says.
She scaled back the travel after marrying her second husband Chuck and earning a PhD in Counseling and Human Behavior.  For fun and a change of pace, the couple relocated to Hawaii for three years.  While Chuck did some engineering consulting, Sara worked as a real estate agent on the Big Island.
Back on the mainland in 2007, Sara resumed her contract training work with clients who were now aging baby boomers "more interested in their retirement plans than their company strategic plans." Intrigued, she pivoted once more to gerontology and retirement coaching, eventually focusing on the unique challenges faced by "solo agers," childless seniors.
She and Chuck relocated to Sonoma County in 2015.  With her book, "Retirement Planning for Solo Agers" in the final stages of editing,  Sara and Chuck lost their home to the Tubbs Fire in 2017.  Now the reinvention skills that had served her professional life so well would be needed to overcome the "mental anguish" in her personal life as well.  "It was hard; we lost everything except the dog."
The book proved to be good therapy and was well received when it was published in 2018, leading Sara to speaking engagements and writing for Forbes.com to this day.
Her Berkeley-bred interest in community service naturally led her to Impact 100.  And now that she's slowing down a bit, she's considering another reinvention in the future, this one outside of academics and career: "I'd like to be more hands-on with volunteer work."