Opportunity to support one of our Grant winners – Food for Thought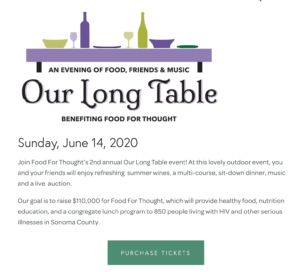 2016 Community Grant Recipient, UC Cooperative Extension, Sonoma Food Recovery Coalition 
Click below to read a brochure developed by the Sonoma County Food Recovery Coalition with some of the grant funding from Impact 100 Redwood Circle.  The intent is to increase awareness in the commercial segment of the issue of food waste and the opportunity for food recovery.
Sonoma County Food Recovery Coalition Digital Brochure
Update from 2018 Community Grant Recipient, SRJC Children's Center 
Click on this link to read how our $10,000 Community Grant to the SRJC Children's Center has allowed them to purchase new kitchen equipment and necessary supplies for the healthy meals prepared on site.
Sonoma County Dines out for Life on Nov. 29th  
Eat out and Support Food for Thought!
Update from 2017 Impact Grant Recipient, Food for Thought
Help support Food for Thought on Thursday, November 29th by participating in the  seventeenth annual Food For Thought Dining Out For Life event. This is FFT's biggest fund raiser of the year, and there are a couple of ways Impact 100 RC members can help:
Become an Ambassador
Select a role as a breakfast, lunch, or dinner ambassador from restaurants across Sonoma County. Responsibilities include: inviting your friends, family and networks; promoting FFT and DOFL using email and/or social media and welcoming and thanking diners. Please contact Volunteer Program Manager, Helen Myers, by phone at (707) 887-1647 x 103 or by email at
HelenM@FFTfoodbank.org
Eat out on November 29th
Select from 90-plus restaurants throughout Sonoma County who will donate between 25 to 50 percent of the day's proceeds to Food For Thought. This is a wonderful opportunity to enjoy one of our amazing eateries while supporting FFT's life-sustaining programs.
Click here
to see a list of participating restaurants.